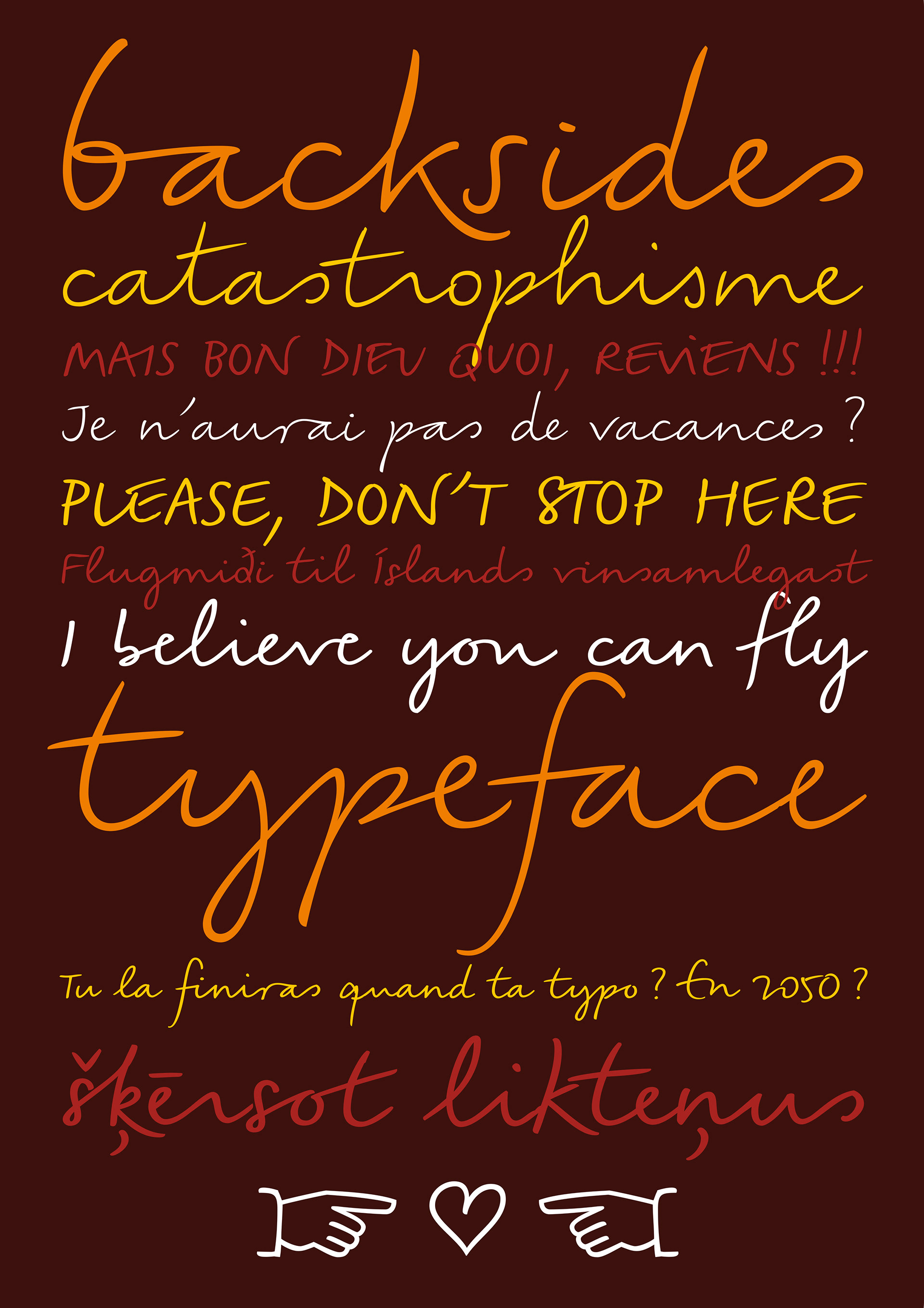 First created for Hermès in 2008, this typeface is intended to imitate the variations of handwriting by avoiding as much as possible the repetitions of the same drawings. Resumed and completely revised since 2013, nearly 4 300 ligatures have been added to the basic version to automatically vary the letters according to their context.
Still in development today, a slightly fatter version is being designed at the request of the foundry who will distribute this character in 2019 under the name Cheramie (for "chère amie" in french).


[Up to date]
 Finally, these fonts will not be marketed because the illustrator doesn't want it. 100% of the glyphs were written and drawn by my hand. But inspiration originally comes from his writing. She even called on the legal department of Hermès to make me comply. But they have absolutely no rights to these fonts, no exclusive contract having been signed with them. And, in French law, without a contract, all rights belong to the creator. I had the advice of a specialist lawyer and wrote to Hermès to explain to them my rights and my regrets at having to put an end to all these years of work. They never answered me. Without their approval, the foundry in charge of marketing the Cheramie does not want to enter into any discussion with the illustrator and take no risk in the face of the juggernaut Hermès. Weary and very disappointed, I give up.
For a time.
D'abord créé pour Hermès en 2008 via l'agence am-pm d'après une base d'écriture de l'illustratrice Alice Charbin, ce caractère avait pour but de singer les aléas de l'écriture manuscrite en évitant au mieux les répétitions de mêmes dessins. Repris et complètement revu depuis 2013, près de 4 300 ligatures ont été ajoutées à la version de base afin de faire varier automatiquement les liaisons de lettres selon leur contexte.
Toujours en développement encore aujourd'hui, une version un peu plus grasse est en cours de conception à la demande de la fonderie qui distribuera ce caractère en 2019 sous le nom de Cheramie (comme « Chère amie » au début d'une lettre galante ;)).


[Mise à jour]
Finalement cette police de caractères ne sera pas commercialisée car l'illustratrice ne le désire pas. 100% des glyphes ont été écrits et dessinés de ma main. Mais l'inspiration vient, à l'origine, de son écriture. Elle a même fait appel au service juridique d'Hermès pour me faire plier. Mais ils n'ont absolument aucun droit sur cette police, aucun contrat d'exclusivité n'ayant été signé avec eux. Et, dans le droit français, sans contrat, tous les droits reviennent au créateur. J'ai eu beau avoir l'avis d'un avocat spécialisé et leur écrire pour leur exposer mes droits et mes regrets de devoir tirer un trait sur toutes ces années de travail, ils ne m'ont jamais répondu. Sans leur aval, la fonderie en charge de la commercialisation de la Cheramie ne veut entamer aucune discussion avec l'illustratrice et ne prendre aucun risque face au mastodonte Hermès. Las et très déçu, j'abandonne.
Pour un temps.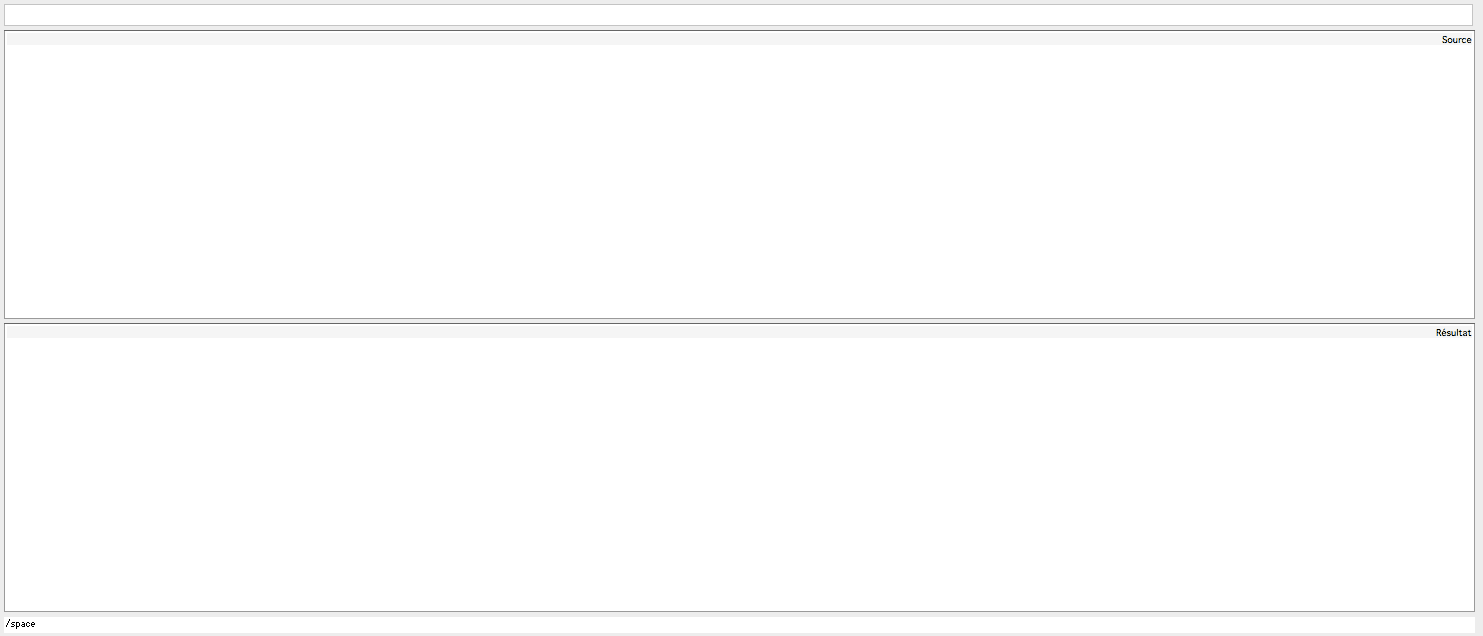 At the top, the typeface without the activation of automatic ligatures. 
At the bottom, the ligatures activated.
The principle is the same as when software such as Indesign activates basic ligatures (fi, fl, ff...). Usually this option is enabled by default. That's what's interesting! So I put these thousands of ligatures in this basic option. This is the easiest way I have found to "force" the function;)
En haut, la fonte sans l'activation des ligatures automatiques.
En bas, les ligatures activées.
Le principe est le même que lorsque les logiciels comme Indesign activent les ligatures basiques (fi, fl, ff…). Généralement cette option est active par défaut. C'est bien ce qui est intéressant ! J'ai donc rangé ces milliers de ligatures dans cette option de base. C'est la manière la plus simple que j'ai trouvée pour «obliger» la fonction ;)

If many letters associations are common to all languages, each has its own quantity. From French to Finnish, through German, Hungarian, Latvian, Czech, Lithuanian or Italian, thirty languages have been taken into account with their own specificities. Some associations of letters are quite folkloric! This has been the longest way to determine and realize.
With, in addition, the consideration of accents! For example, in French, if I conceive the ligature "ene", it's also necessary to make the "éne", "ène", "ené", "enè", "éné", "ènè", "énè", "èné", "êne", "êné", "ênè", "enê", "énê", "ènê", etc. 
That's the kind of thing you don't really know at first. Then that gives the impression of leaning over a very deep chasm ;)
Si beaucoup d'associations de lettres sont communes à toutes les langues, chacune en a une quantité qui lui est propre.
Du français au finnois, en passant par l'allemand, le hongrois, le letton, le tchèque, le lituanien ou l'italien, une trentaine de langues ont été prises en compte avec leurs propres spécificités. Certaines associations de lettres sont assez folkloriques !
C'est ce qui a été, de loin, le plus long à déterminer et à réaliser.
Avec, en plus, la prise en compte des accents ! Par exemple, en français, si je conçois la ligature « ene », il faut aussi faire les «éne», «ène», «ené», «enè», «éné», «ènè», «énè», «èné», «êne», «êné», «ênè», «enê», «énê», «ènê», etc. 
Le genre de chose dont on ne se doute pas trop en commençant. Puis, quand on y est, qui donne l'impression de se pencher au dessus d'un gouffre trèèès profond ;)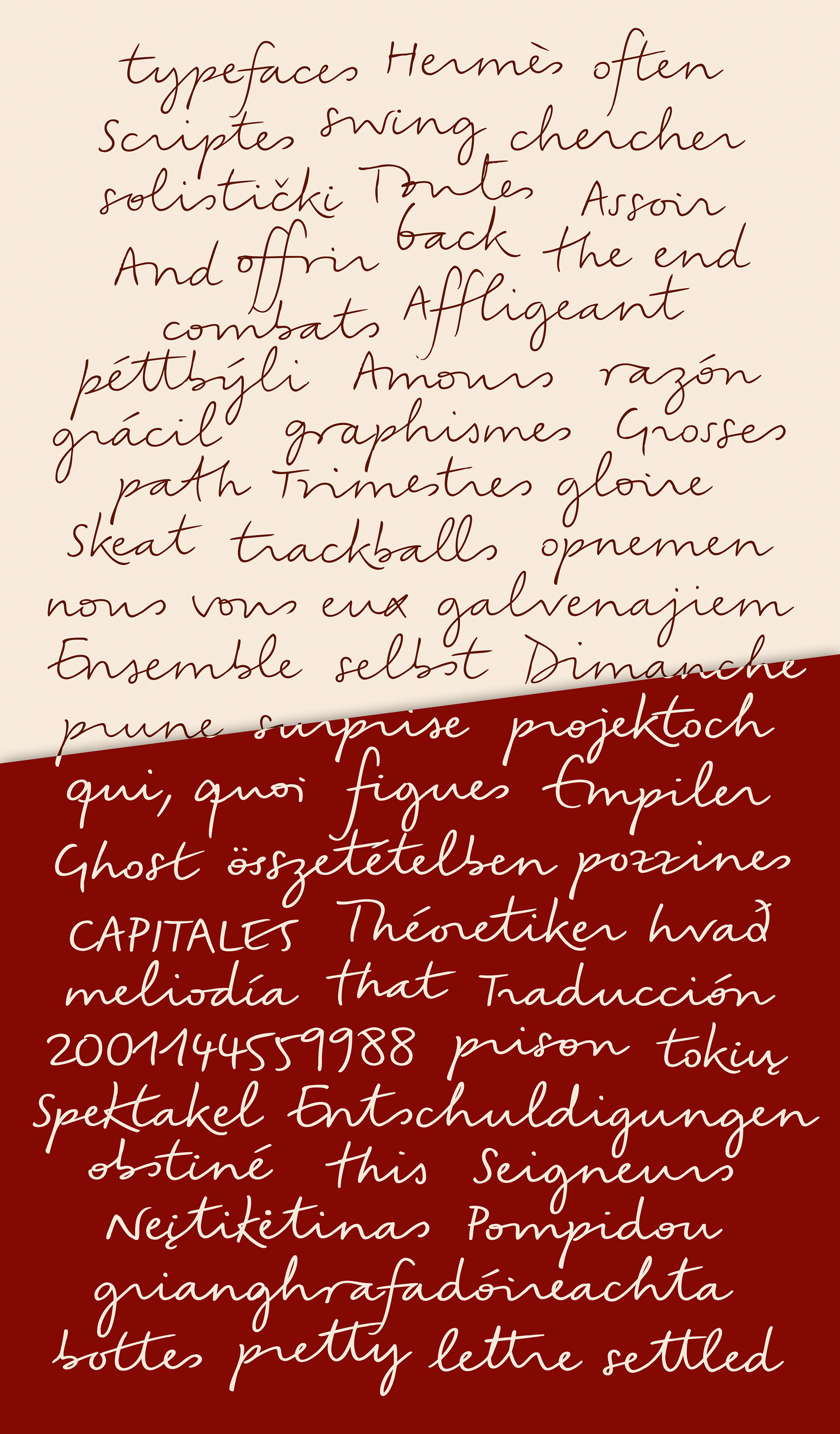 Associations of letters often vary according to their context. For example, "botte", "pretty", "lettre" or "settled", here in the last line, do not have the same TT ligature.
Up the original version, down a slightly fatter version.
Les associations de lettres varient souvent selon leur contexte. Par exemple « botte », « pretty », « lettre » ou « settled », ici en avant dernière ligne, ne comportent pas une ligature tt identique.
En haut la version originale, en bas une version un peu plus grasse.

Some of the thousands of ligatures of the font.
Quelques unes des milliers de ligatures qui composent la fonte.